Despite the mid-week defeat to Real Betis, the mood within Real Madrid's squad is a positive one with Dani Carvajal being comically forced to spend an extended period in the middle of the rondo.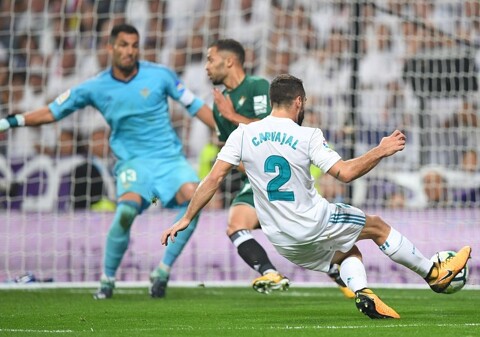 Friday's training session was good humoured and there appeared to be no signs of lingering disappointment.
Sergio Ramos and Isco were having fun at the expense of the club's right-back with Carvajal missing a header that would have allowed him out of the pressing phase of the exercise.
Playful shoves were preceded by hugs amongst those competing, despite the former Bayer Leverkusen defender's obvious disappointment.
Zinedine Zidane has been under significant pressure since Wednesday and he had to face an onslaught of uncomfortable questions throughout his Friday press conference.
The former Juventus midfielder took his mind off of things by taking part in the rondo of the club's international stars.
He was positioned in the middle of the drill after losing the ball on two occasions, although his exceptional close control and first touch were still evident for all to see.