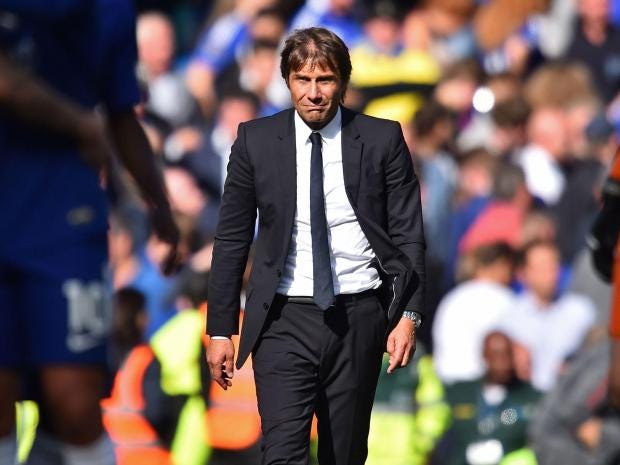 Antonio Conte believes that Alexis Sanchez should have been flagged for a foul on David Luiz before the Chelseacentre-half was sent off in his side's 0-0 draw with Arsenal at Stamford Bridge, and also said the club may yet appeal the decision.
The Brazilian was given a red card by Michael Oliver for a rash challenge on Sead Kolasinac in the 87th minute of what was an otherwise dull game, but Conte felt that Sanchez had fouled him in the build-up to the tackle.
"For sure, that was a foul," he said afterwards. "For sure. But, I repeat, the referee took this decision. If he stopped the play before, it wouldn't matter.
"I think, I repeat, in this situation when a player is fouled in a continuing way – he continued to push him."
Asked whether he would appeal the red, Conte said: "I don't know, I don't know what happens. But, for sure, we have to wait for the referee's decision to know how many games he will be suspended for."
David Luiz's red card was the third Chelsea have endured in five games this season, but Conte merely described it as "strange" rather than a concern.
"I don't know. Do you think we are becoming bad? For sure, it's strange, no. A strange situation. Yes. But in normal situations we have to improve. In tactical situations, physical situations, you need to try and improve this situation. Also, you have to be more lucky in the future."
"I was a player and I think it can happen, this type of period, if you are not so lucky and receive red cards. But, as I said before, I think we have to try to improve in all situations. We work to improve tactical and physical situations.
"In the end, we'll try to pay more attention in the future. I hope, also, to be more lucky with the refereeing decisions. For us, and also for the opponents. Sometimes the opponents deserve a red card but, instead, they carry on playing with 11 men